Nothing as nice as a good basic t-shirt. They can be combined endlessly, you can buy them in just about every imaginable colour and you also have a choice of materials. Yet T-shirts often have a huge damper. A specific and recognizable problem with a mysterious cause. T-shirts get mini holes quite quickly. How is that possible? And more important; how do you get rid of them again?!
Radar did extensive research in 2015 into the phenomenon of the tiny holes in your T-shirt. They put questions to their test panel of more than 44,000 people and hired a textile expert and fashion expert to find out the origin of the holes. Although a large part of the test panel and the textile expert thought that the holes were caused by poor quality, this turned out not to be the case. Apart from the fact that the shirts had the holes in very specific places, they were also common in good quality shirts.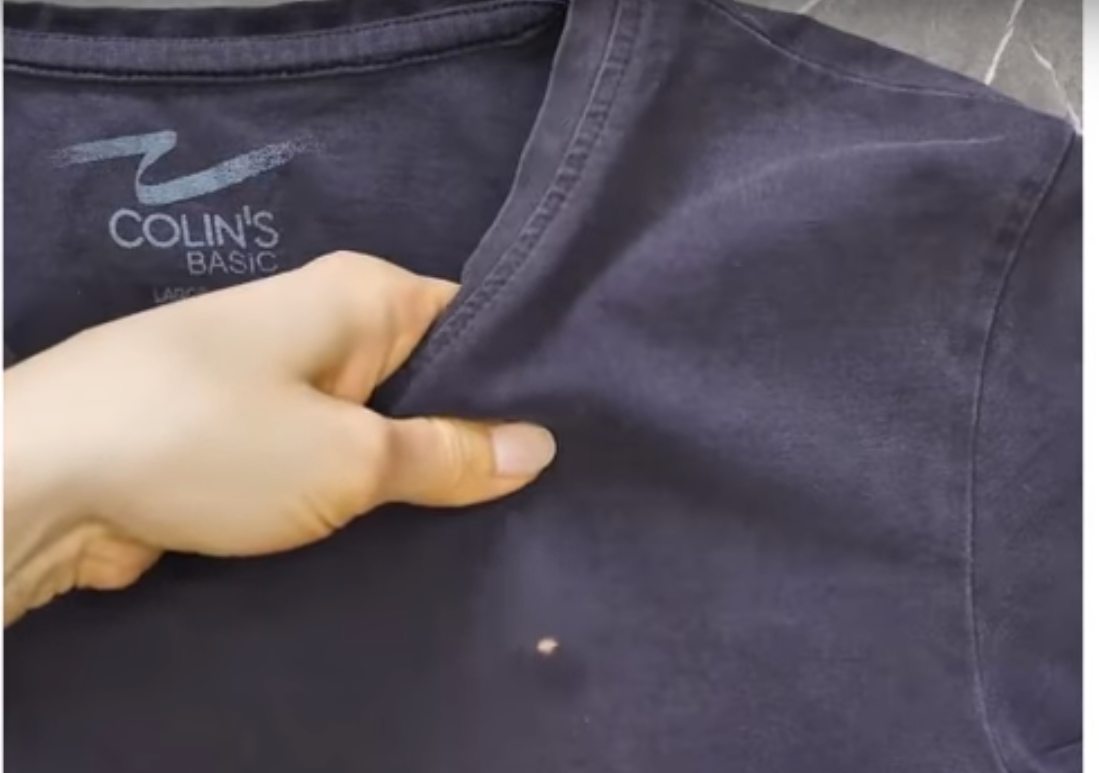 Another cause that is often thought of is vermin. Logical, because the holes are just as big as when you picture a moth bite. Yet that also didn't seem to be the cause most of the time.
The answer lies in the way many shirts are made nowadays. This is because most shirts are knitted with a single thread. As soon as a thread becomes loose, a hole is immediately created in the shirt. Now it is not difficult to pull off such a thread; most holes are caused, for example, by the edge of your belt (which in turn explains the specific location!). Other culprits are the washing machine, car belts, sharp corners on tables and counter tops, and bags that you carry on your back or shoulders.
All right, mystery solved. But how do you get rid of it?
Easy peasy!
Still need a new T-shirt? Then buy a sustainable one!
You need:
Ironing board
Heated iron
Small piece of Vliesofix (for sale on Amazon or local DIY shops)
A small amount of water
Press cloth (or just a simple piece of cloth or t-shirt)

Step-by-step:
Lay your shirt inside out on the ironing board
Close the hole well by pressing the sides together.
Put the Vliesofix on it
Lay the piece of press cloth over the Vliesofix (or use a different shirt)
Spray water over your press fabric (or shirt) at the location of the Vliesofix
Place a hot iron on the hole for about 10 seconds (do not make ironing movements, otherwise, you will open the hole again!)
Ready! If you have done well, everything will stay in place after a wash.
Related articles:
Project Cece is a platform that collects ethical clothing from different webshops on one website. Take a look in our shopping section and find the clothing that fits your style, budget and values!