Nothing compares to a nice basic t-shirt. They're easy to combine, available in an endless range of colours and just as many options for materials. However, there's always a huge damper with "the basic t-shirt". A problem most of us have experienced, but the reason why it occurs remains a mystery: t-shirts often get mini holes. In this blog, we're solving the mystery. Why do those tiny holes keep popping up in your t-shirts? And more important; how do you get rid of them again? In this blog, we explain the reason these holes occur and give you tips on how to resolve them without stitching.
In 2015, a Dutch research firm called Radar did extensive research into the phenomenon of the tiny holes in your T-shirt. They questioned their test panel of more than 44,000 people and hired a textile and a fashion expert to find the origin of the holes. Although a large part of the test panel and even the textile expert thought that the holes were caused by poor quality, this turned out not to be the case. Apart from the fact that the shirts had the holes in very specific places, they were also common in high quality shirts.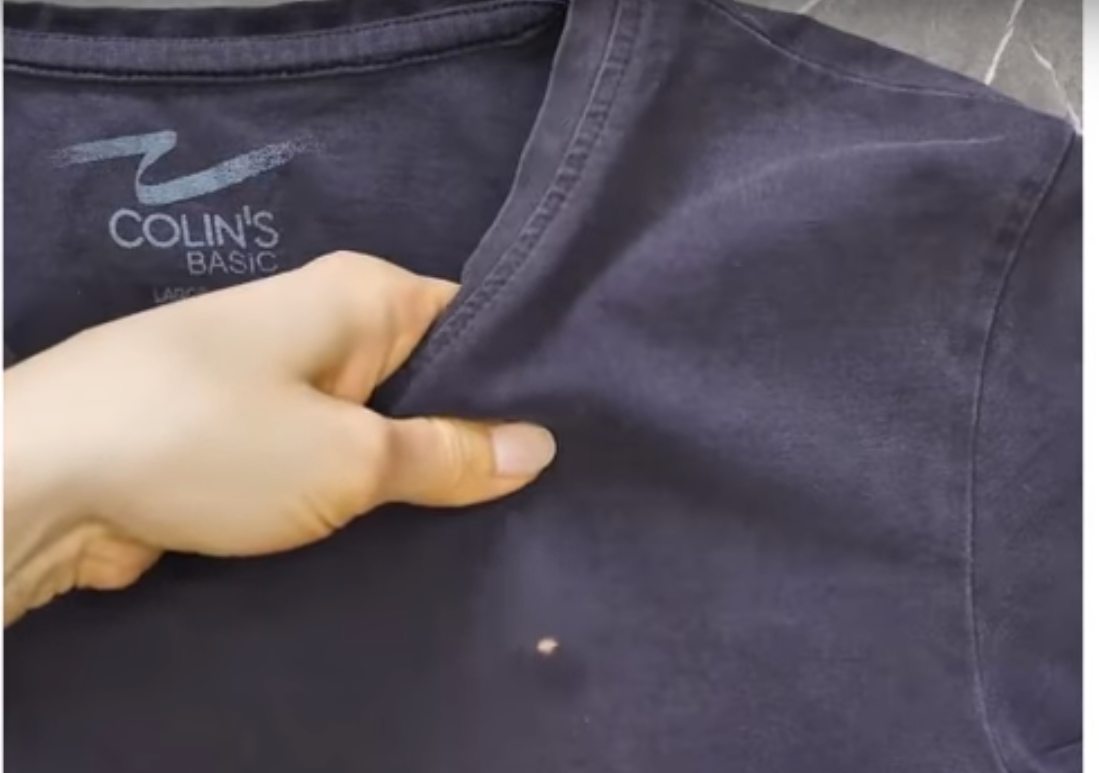 Another cause that is often thought of is vermin. Makes sense, as the holes are around the same size you'd imagine a moth bite to be. Yet in most cases, no moths were discovered.
The answer lies in the way many shirts are made nowadays. Most shirts being made today are knitted with a single thread. As soon as a thread becomes loose, it leaves a hole in your shirt. Now it is not difficult to pull off such a thread; most holes are caused, for example, by buttons or the edge of your belt (which in turn explains the specific location). Other culprits are the washing machine, car belts, sharp corners on tables and countertops, and bags that you carry on your back or shoulders.
All right, mystery solved. But how do you get rid of it?
Easy peasy!
Still need a new T-shirt? Then buy a sustainable one!
Getting rid of those tiny holes
You need:
Ironing board
Heated iron
Small piece of Vliesofix (for sale on Amazon or local DIY shops)
A small amount of water
Press cloth (or just a simple piece of cloth or t-shirt)

Step-by-step:
Lay your shirt inside out on the ironing board
Close the hole well by pressing the sides together.
Put the Vliesofix on it
Lay the piece of press cloth over the Vliesofix (or use a different shirt)
Spray water over your press fabric (or shirt) at the location of the Vliesofix
Place a hot iron on the hole for about 10 seconds (do not make ironing movements, otherwise, you will open the hole again!)
Ready! If you have done well, everything will stay in place after a wash.
Preventing those tiny holes
A way to prevent getting those tiny holes in your shirt is by wearing a so-called "button cover". A cover to put over your button, so it protects your shirt from directly touching it.
Our favourite is the button cover from Holé. Their covers are made from soft silicone, so no unnecessary plastic, in a factory in Hong Kong that is often checked unannounced by Veritas.
Holé sells covers in black and see-through. In our own test, we noticed indeed that no holes occurred in our shirts. However, our test started less than a month ago so it is quite logic that no holes occurred yet.
We do like that button covers are a nice way to pimp your jeans. Adding a black or see-through detail on your button makes it either stand out more or less.
Sadly, button covers only work if you don't wear a belt over them.
Related articles:
Project Cece is a platform that collects ethical clothing from different webshops on one website. Take a look in our shopping section and find the clothing that fits your style, budget and values!