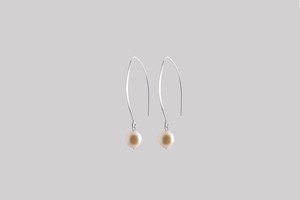 Pearl on long hook earrings silver
£38.25*



*This price is converted from another currency.
Soft pink fair labor sweet water pearls
(4,8 x 2,1 cm including pearl)
Sustainably made in recycled sterling silver
Assembled in Utrecht
Please be aware that pearls are a natural product. Shade of colour may differ.
Source: Julia Otilia
No extra information available. Check the store/brands tab for more details!
Julia Otilia Organic Jewellery is a jewellery brand inspired by nature. They make conscious decisions about the use of materials and the production of the jewellery and strive to be as sustainable as possible. For the jewellery, they mainly use gold and silver, and recycled materials where possible. They also make of freshwater pearls, eco-leather, cork, organic seeds, natural nuts, and wood. All jewellery is made under fair working conditions in a small studio in Bali and the final touch they do in their own studio in Utrecht.
Practical information:
Shipping fee: £ 3,02 worldwide
Delivery time: Within Europe about 4 days
Address: No physical store