Olga Organic V Neck T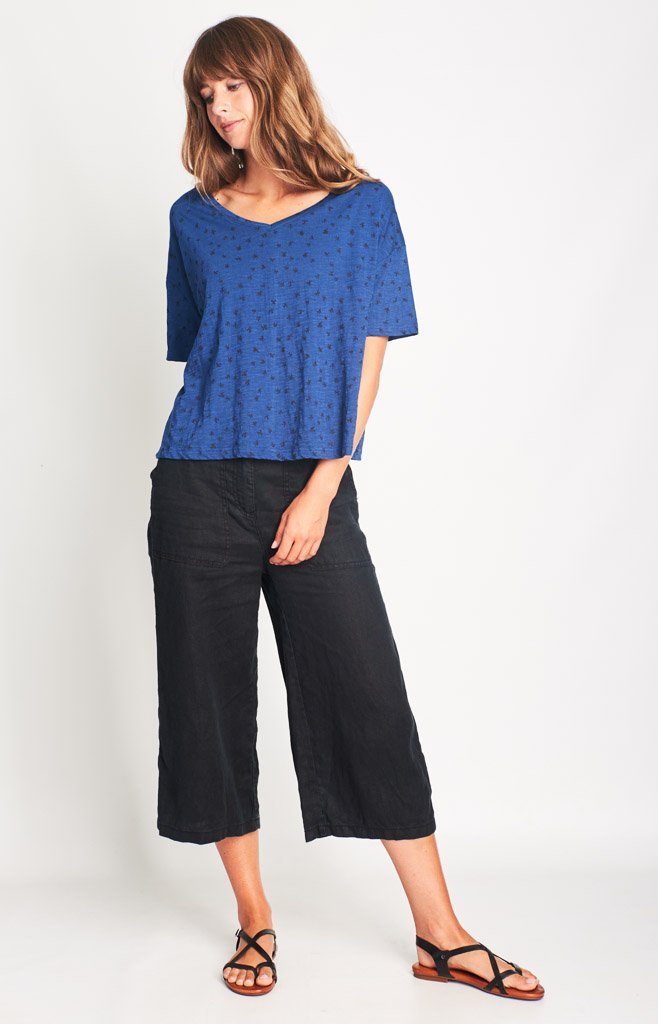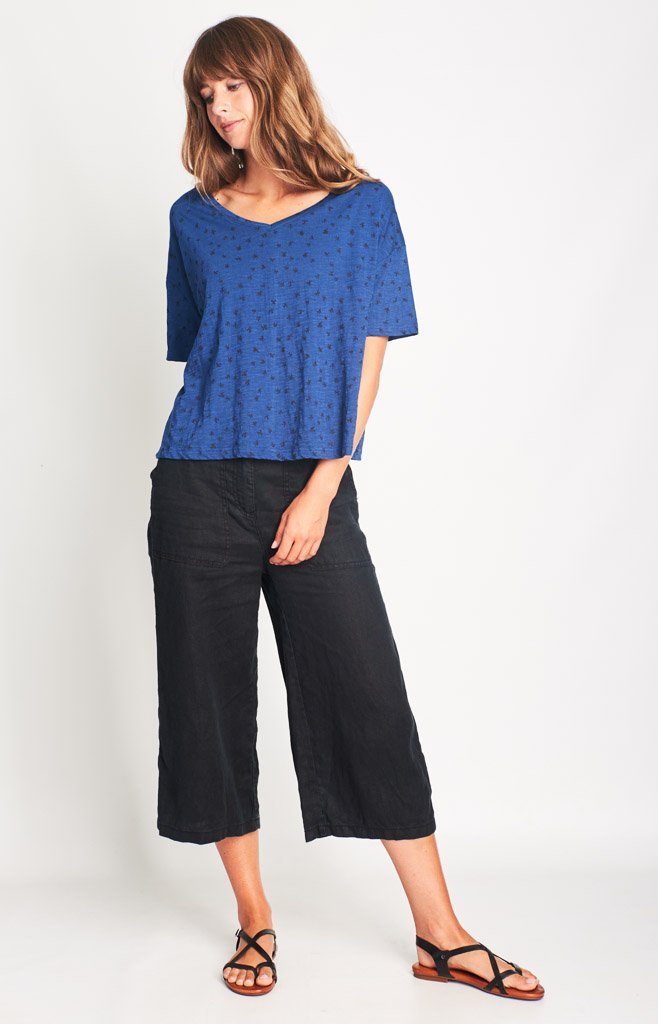 colour selected – Blue
Description
Oversized, easy to wear T made in our slubby organic cotton jersey and printed in our exclusive hand drawn star print. Boxy cut for extra comfort. Slightly cropped. Elegant v neck and drop shoulders. Elbow length sleeves. Small side opening. Easy to pair with your favourite jeans or one of our skirts. Also available in a soft & natural linen/cotton jersey.
Cut:Oversized
Exclusive print designed by Snow
100% Organic Cotton Jersey
Details & Fit
Made in India
Machine wash 30°C
Length - 56cm/22"
Model wears size s
Model details: Height 175cm/5'7. Bust 86cm/ 34". Waist 66cm/26".Hips 94cm/37"
Measurements
Body measurements
Size S (8-10UK) M (10-12uk) L(14-16uk)Bust Circumference(cm) 81-91 86-96 96-106Waist Circumference(cm) 62-72 67-77 77-87Hip Circumference(cm) 90-100 95-105 105-115Bust Circumference(inch) 31.9"-35.8" 33.8"-37.8" 37.8"-41.7"Waist Circumference(inch) 24.4"-28.3" 26.4"-30.3" 30.3"-34.2"Hip Circumference (inch) 35.4"-39.4" 37.4"-41.3" 41.3"-45.3"
*Measurements shown in the size guide refer to body measurements and not measurements of the garment.
*Please note our clothes are made by people not machines so there could be some variation to these measurements.
If in doubt please contact us on [email protected]
Delivery
FREE UK Delivery - all standard uk orders over £50
UK Standard - 3-5 days - £3.95
UK Next Day - Order by 12pm - £5.95
Europe – 5-7 days - £7.00
Outside Europe – 7-10 days - from £8.00
Click here for more information on UK & International delivery
No extra information available. Check the store/brands tab for more details!
Brand: Bibico Source: BIBICO
Bibico is a brand that knows that they cannot save the world all by themselves, but that they can at least do their part. That is why they have chosen to only use natural materials, free from plastic. They also have started an organic cotton collection to minimize the amount of chemicals that are dumped into the environment. They understand very well that you should not let people work for a wage they cannot live on. That is why they work together with two women's cooperatives, both of which are WFTO fair trade certified. These cooperatives not only ensure fair trade, but also provide training for women so that they and their children can work their way out of poverty.
Practical information:
Delivery rate: £ 3.95 and free for orders above £ 50,-
Delivery time: 2-3 working days
Address: No physical store
Payment methods: