Everyone experiences it sometimes, you are in a clothing shop and are about to buy a piece you just fell in love with. Somewhere in the back of your mind you hear a voice wondering if this is an ethical purchase, but whatever, you have no clue under what circumstances the clothing was made, so you ignore the voice and buy it anyway. This is of course very human and we really don't want to shame you about it. Yet there are some simple checks that can help you find out if buying the piece is an ethical decision.
Do you want to stay updated about our ethical fashion tips and tricks? Sign in for the news letter!
#Check 1: Am I going to wear this more than 50 times?
Did you know that a piece of clothing is only worn 7 times on average before it is discarded? That is not very sustainable. The first step to a sustainable purchase is, therefore, to ensure that you are going to wear the garment a lot. So before making the purchase, ask yourself: Am I going to wear this more than 50 times? If the answer is no then it might be better to leave it on the clothing rack.
Dit bericht bekijken op Instagram
#Check 2: What do you know about the brand?
For many brands, it is public knowledge of how sustainable they are. We know that it's better to stay away from the Primark, but did you know that a more expensive brand like Tommy Hilfiger does not do better in terms of sustainability? The brands may not shout this from the rooftops themselves, but it is often publicly known in their annual reports, or through organisations that research the production practises of these brands. Researching this all by yourself while you are in the store might be a bit to much work. Fortunately, initiatives such as Good On You and Rank a Brand have done the work for you! You type in the brand and you get a summary of how well the brand scores in terms of sustainability and ethical production. You can also ask the staff of the store if they can tell you anything about the production of the clothing. This also ensures that the stores are informed that there is a demand for ethical clothing.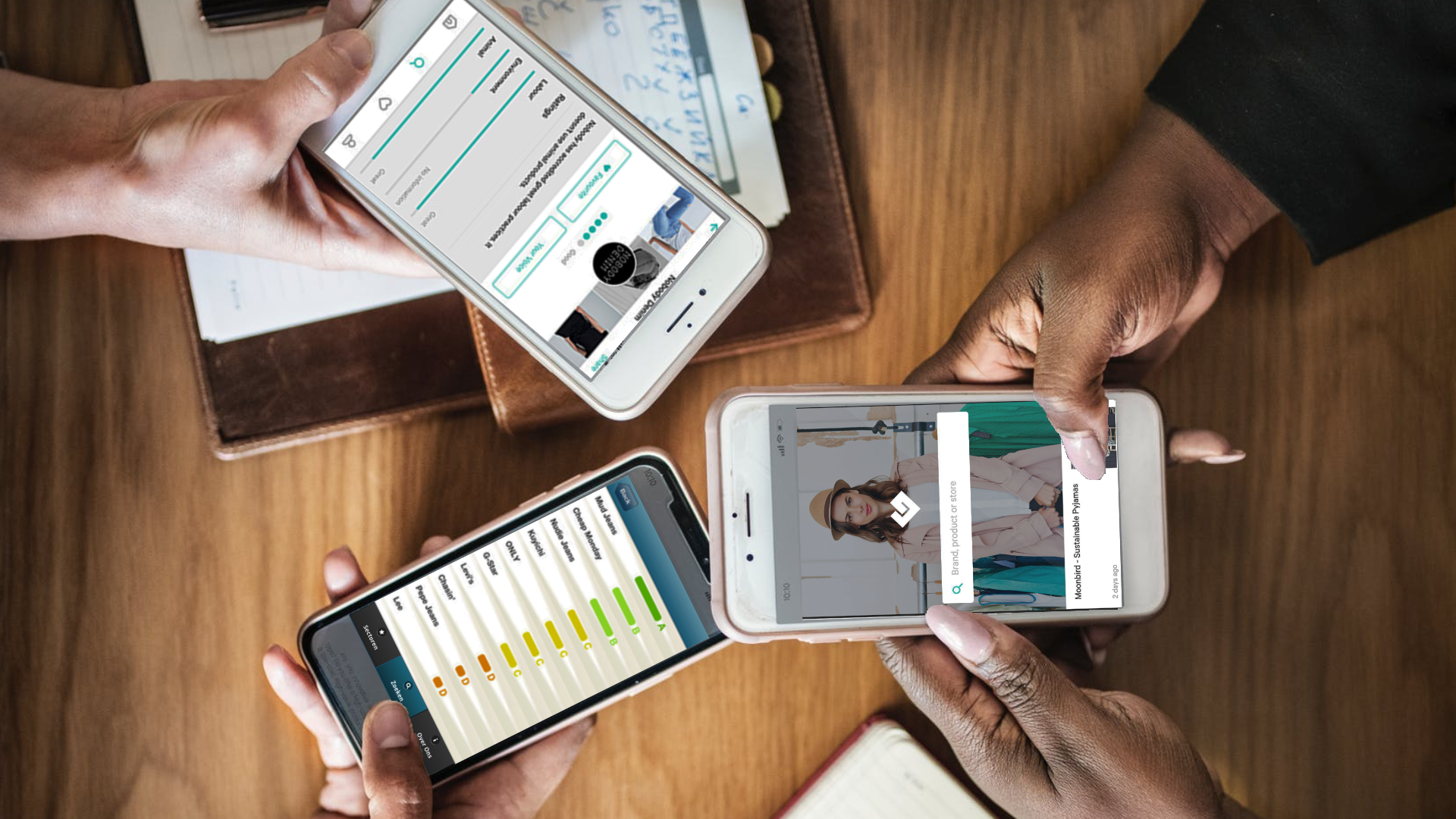 Check 3: Does it have a certification?
There are many certifications for clothing that show whether it has been produced in a fair and/or environmentally friendly manner, just like with food. The certification can usually be found on the price tag or on the label of the piece of clothing. What the certifications mean you can look up in our certification guide.


Check 4: What does it say on the price tag and label?
Can't find anything about the brand or certifications? Then you can take a closer look at the label inside the piece of clothing or at the price tag. Sustainable brands often like to let you know that they are sustainable. So they will often say something about this on the price tag. You can also see what the clothing is made of in the label. Is it a sustainable material? Where was it produced? From just the label, a lot can be deduced about the sustainability and the working conditions under which the item was produced.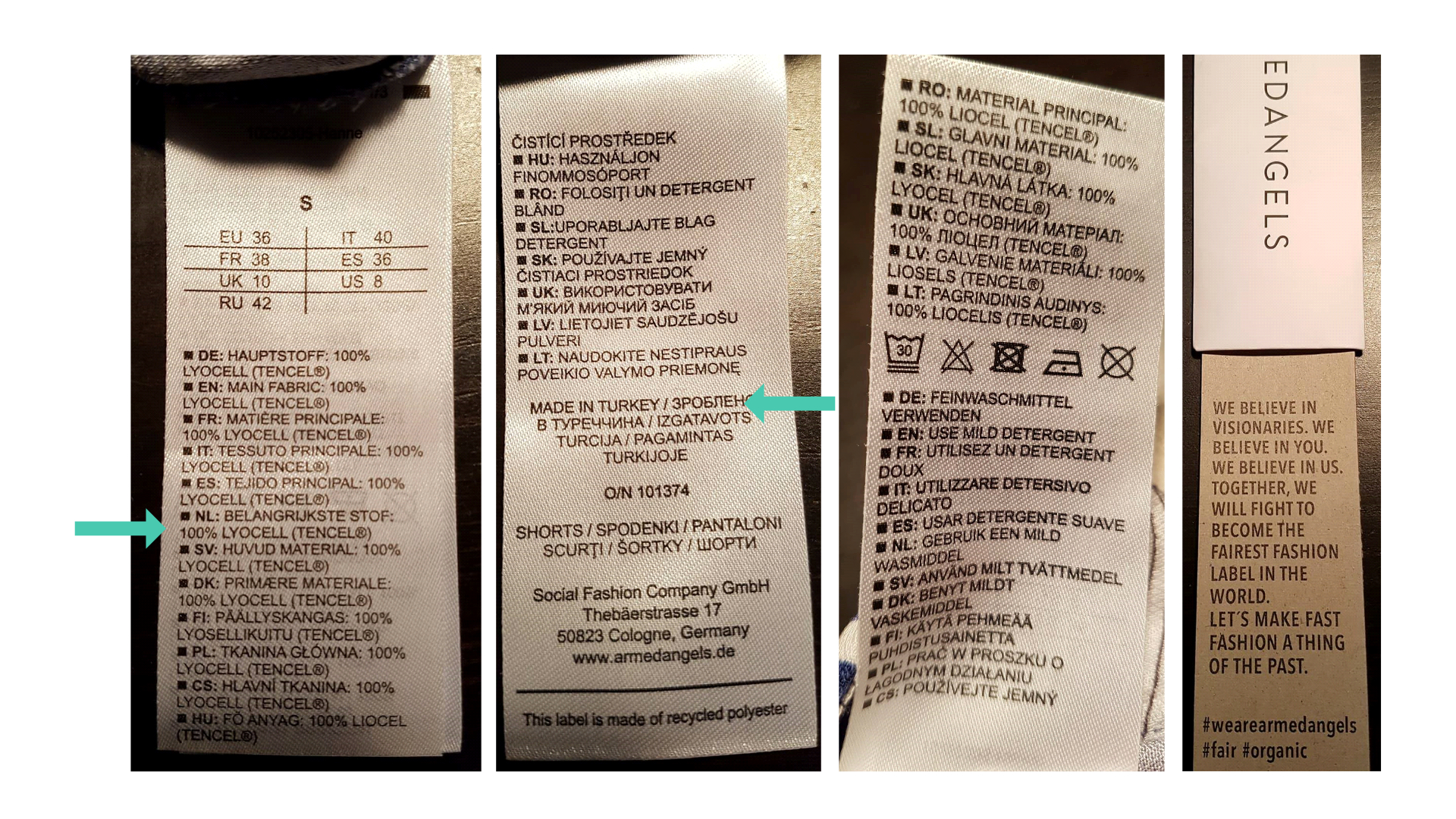 You might also find this interesting:Is the fashion industry the second most polluting industry in the world?
Check 5: If the piece of clothing turns out to be unethical, can you find an ethical alternative?
Unfortunately, after going through this checklist you will often come to the conclusion that the item you wanted to buy was not really ethical. Not surprising, because less than 1% of all clothing that is produced was not produced under fair working conditions. No reason to give up yet! You can check if you can find it, or something similar, second hand. Vinted and The Next Closet are two online platforms that specialize in selling second-hand clothing, so that's a good place to start.
You can of course also take a look in our Project Cece catalogue to see if we have something that looks like the garment that you want to buy. With us, you can see for each piece of clothing how and why it is sustainable and whether it matches your values. If you shop at Project Cece you do not have to go through the checklist... with the exception of Check # 1 of course!
Project Cece is a platform that collects ethical clothing from different webshops on one website. Take a look in our shopping section and find the clothing that fits your style, budget and values!