What is the impact that you make when you buy an ethical pair of jeans at Project Cece? With the information we have collected in the last months you can find out what your impact is when you are buying sustainable jeans! Perhaps you already have sustainable pair, otherwise, this might be a good time to take a step towards a more sustainable future and leave the polluting fast-fashion jeans industry behind you.
In this blog, we will show you an analysis of how ethical jeans perform on sustainability compared to regular jeans. This has been analyzed based on 5 factors that have an impact on the environment: water, toxic chemicals and pesticides, waste, energy, and emissions.
The water impact of sustainable jeans
In the figure below you can see what a pair of organic cotton jeans saves on average in water usage. This goes up to 969 liters of water, which is roughly equivalent to 8 bathtubs full of water!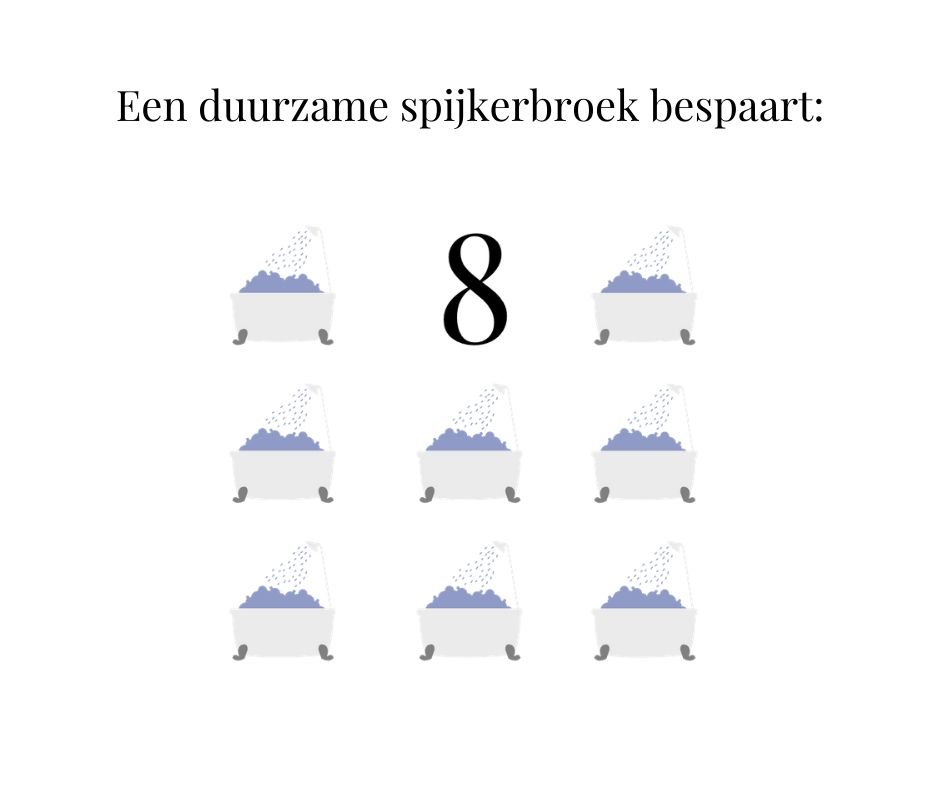 The Ariel Wide Leg jeans is the absolute winner, People Tree managed to produce these jeans with only 896 L of water!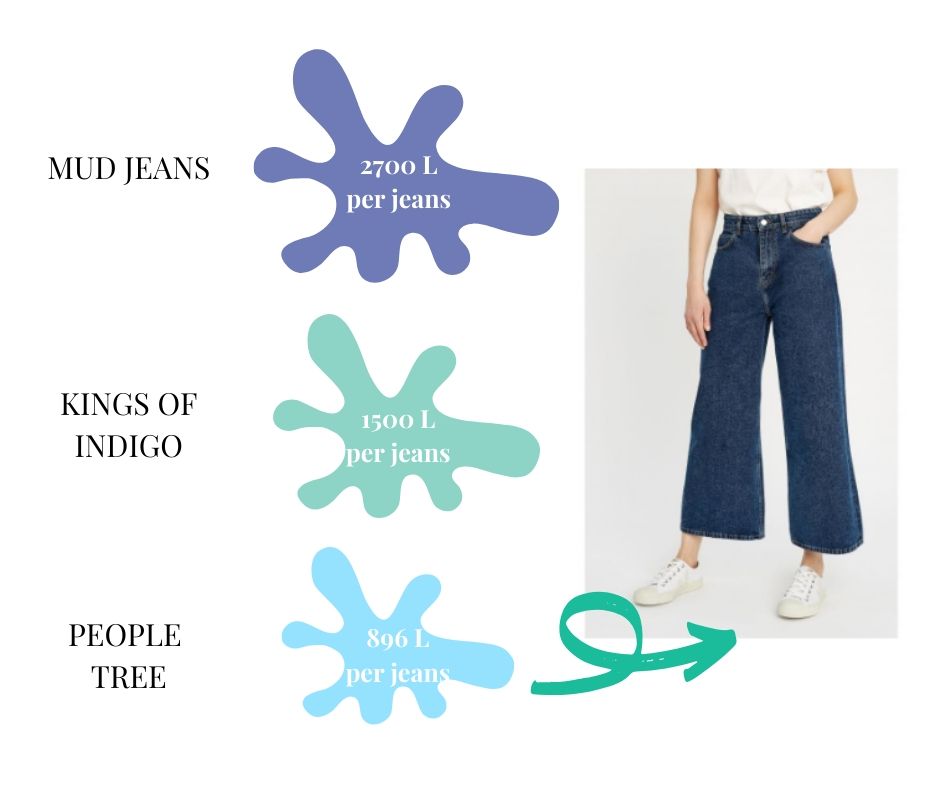 Pesticides and toxic chemicals avoided
With jeans made of organic cotton, you skip many toxic chemicals and pesticides that are often sprayed on the fields during the cotton growing process. Together this is about 2 tubes of hand cream full of pesticides and 1.5 pack of sugar of toxic chemicals that will be avoided and thus not dumped in the environment.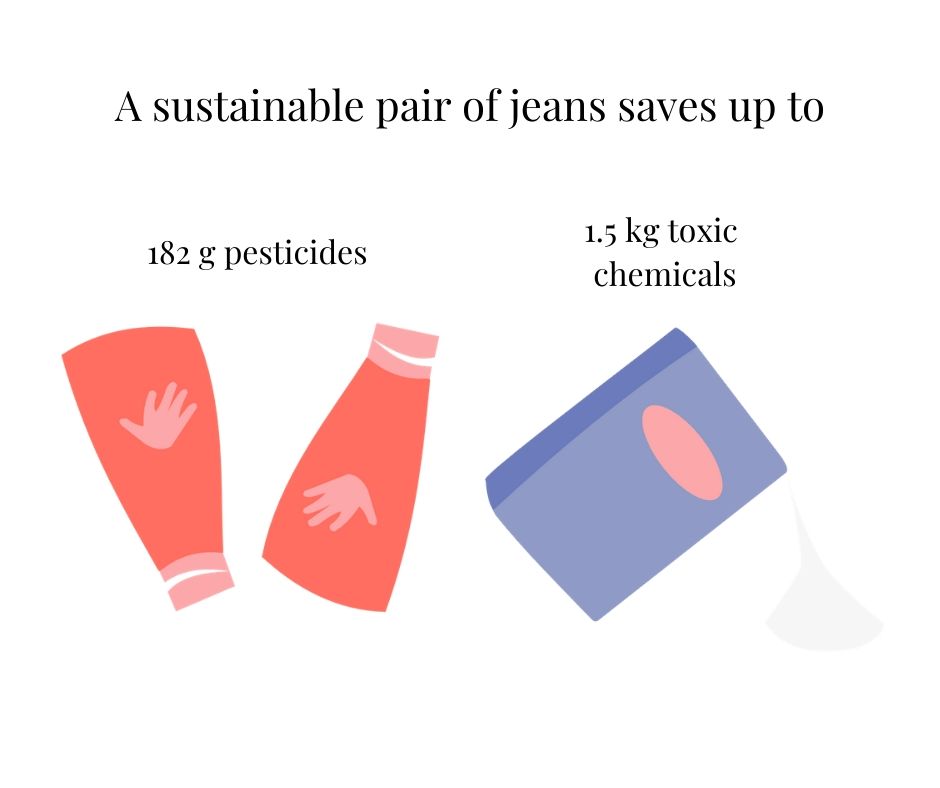 The waste avoided by buying ethical jeans
Because a number of jeans brands on Project Cece work with recycled denim, waste is saved. This can amount to as much as 150 g of recycled material per jeans, which might otherwise have ended up in the dump! The brands that are re-using denim material for new jeans are MUD Jeans, Kuyichi, Kings of Indigo and Brainshirt.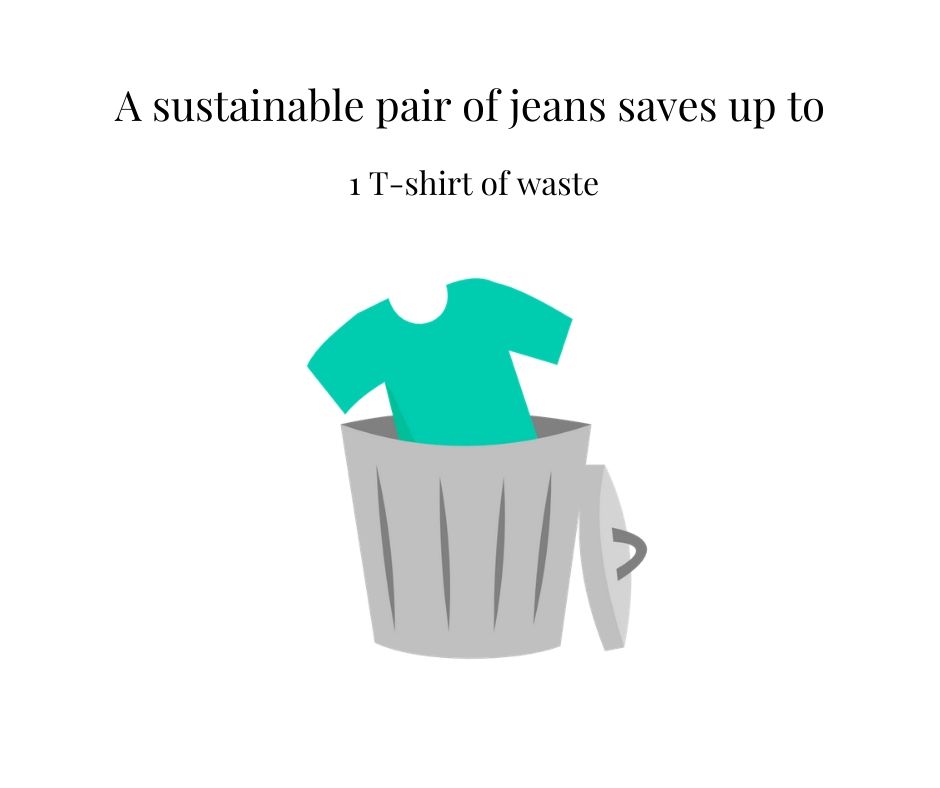 Energy saved
As you can see in the table below, energy consumption during the growth of organic cotton is a lot less than for conventional cotton. Two of Project Cece's jeans brands, Nudie Jeans and MUD Jeans, also use green energy further in their production process! On average, sustainable jeans save around 4.5 MJ in energy. That is about as much as having a 3 light bulbs on for a day and night.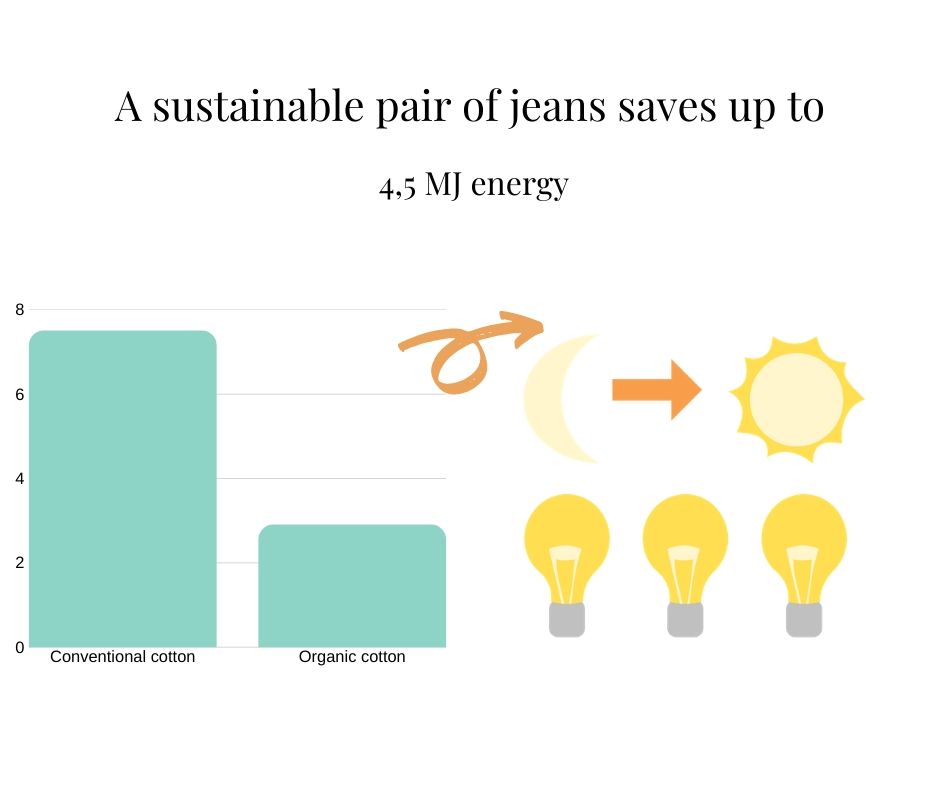 CO2 impact of a sustainable pair of jeans
The amount of CO2 that is released during the cultivation of organic cotton for the production of jeans is approximately half the amount of the CO2 that is released during the cultivation of non-organic cotton. Around 410 grams of CO2 are saved by using organic cotton, which is not that much. To put that in perspective, you can drive for 3 kilometers from that in a petrol car.
What can you do after you buy it?
You too can save a lot in the phase that you already own the pair of jeans. When you wash your jeans after wearing it 10x, instead of each time you wear, you save up to 25.1 kg of CO2, 1483 L of water (12 bathtubs!) And 496 MJ of energy. So you can also make a big impact there!
Also, by wearing it longer, repairing it when it's broken, or selling/giving it away after you don't want it anymore, you can make a big impact.
Would you like to read the complete report?
Recently we have been busy collecting data concerning fast-fashion jeans and durable jeans. We have combined all this data and information into a comprehensive report. Do you want to know more about the production process of jeans, sustainable or not-so-sustainable? Then you can download the report here.
Project Cece is a platform that collects ethical clothing from different webshops on one website. Take a look in our shopping section and find the clothing that fits your style, budget and values!