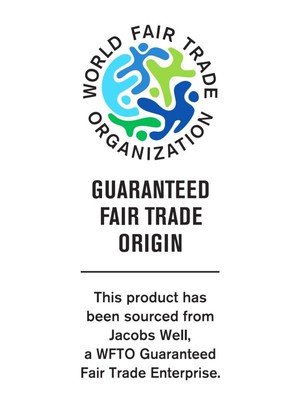 Cream Lace Transformation Dress
£80.00



At Jenerous we make our clothing in an ethical and sustainable way. This dress has been made in a registered Fair Trade factory in India, providing work and training opportunities to vulnerable people from low socio-economic backgrounds.
Your purchase helps change lives. Profits from your purchase will go towards supporting our team in India during the Covid-19 pandemic.
The cream lace transformation dress is made from a pretty floral cotton lace, in keeping with the hand crafted trend. This lace is deadstock fabric sourced in India, which supports local Indian businesses. The frilled neck detail on this ethically made dress can be worn either on or off the shoulder, or even as a one shoulder dress. This dress also features a waist seam and a gathered tier at the hem.
Please note that the belt does not come with the dress and you might need to wear a slip with this dress.
Model wears a size 10 and is 5ft 5in tall.
*

Made in a Fair Trade factory

*

Deadstock cotton lace

*

Machine washable

*

Versatile neckline for different looks
Source: Jenerous
No extra information available. Check the store/brands tab for more details!
Jenerous clothing is a combination of handicraft, traditional skills from India and a contemporary style. They sell women's and girls 'clothes and offer a range of matching mini-me girls' dresses: this way they can use the residues and reduce wasting fabric.
Fair trade: The clothing is made by in Bangalore, India, in a World Fair Trade Organization (WFTO) certified factory that enables people with a low socio-economic background to get out of poverty. Usually, they visit the supplier once a year. Jenerous is what WFTO defines as a first buyer, which means that the brand itself is not WFTO certified, but that their products that are produced in this WFTO factory are, and therefore carry the WFTO certified label.
Environmentally friendly: Jenerous uses sustainable materials for their clothing. This consists partially of organic cotton and for the other part out of deadstock fabrics. These fabrics are carefully selected and always come in very small amounts. Some of these fabrics are slightly damaged or dirty/discoloured, most are also small cut pieces. These need to be cut around the bits that are marked and are thereby saved from landfills. These fabrics come from local suppliers in India, or from a supplier in London. The clothing is dyed with eco-friendly dye.
Good cause: Jenerous donates a portion of the proceeds to charity projects in India and to support their suppliers. For example, they raised money through accessories sales and donated these profits to the Indian factory to support them during the COVID crisis.
Practical information:
Shipping fee: Free shipping in the UK and £15 outside the UK.
Delivery time: 5 working days.
Address: No physical store.