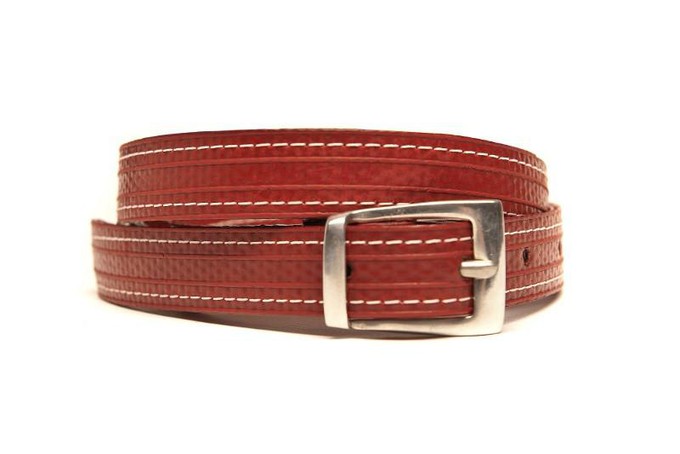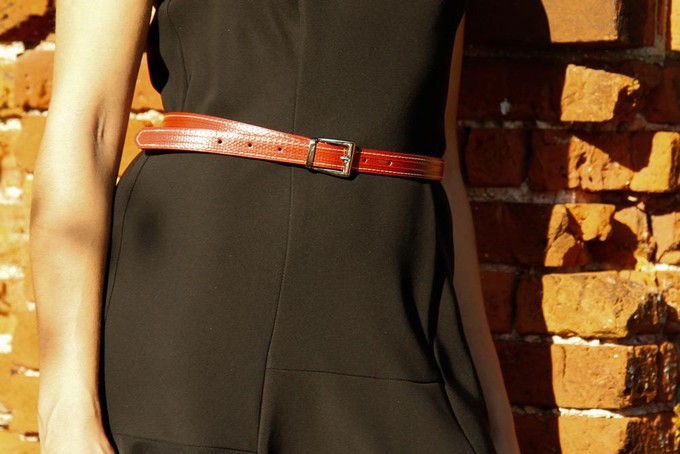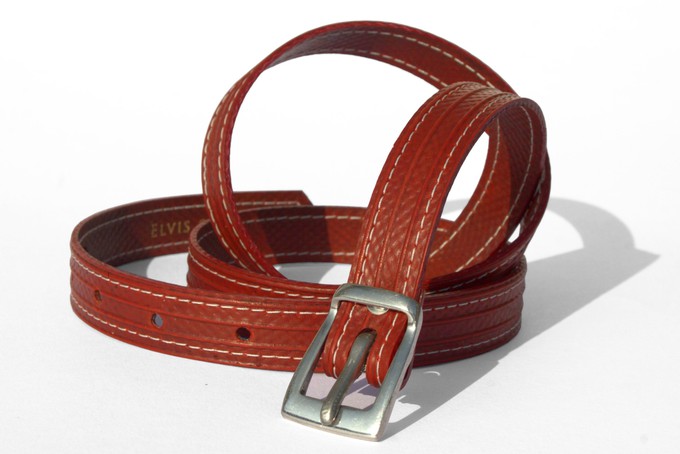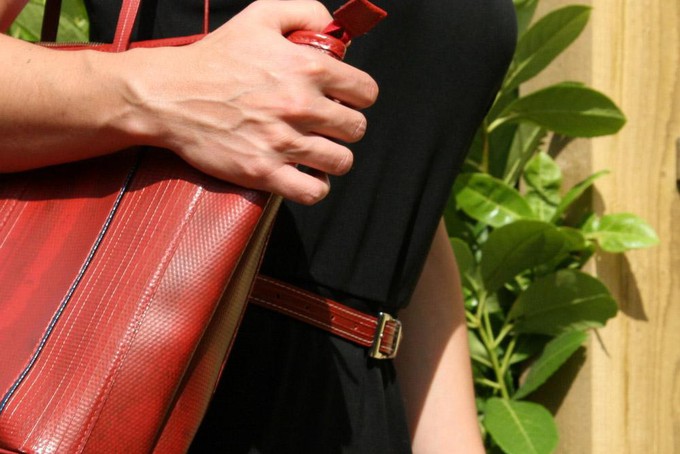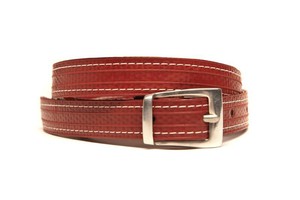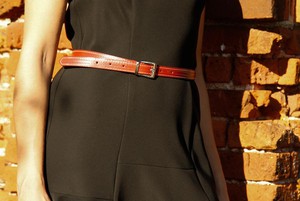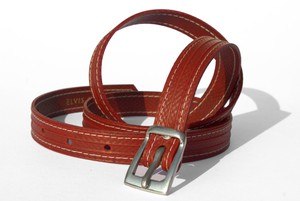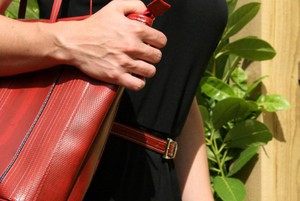 Skinny Stitch Belt
£41.00




Reclaimed elegance
The Skinny Stitch Belt - Definitely one for the ladies, we call it skinny because it's just 1.75cm wide. Decommissioned fire-hose is transformed through meticulous craftsmanship and a contrasting elegant white stitching. The combination of our signature red fire-hose with an antique silver buckle creates a belt that looks as good with a pair of jeans as it does hugging that little black dress.
All our belts are measured from the fold that holds the buckle to the third hole.
Sizes are:
XS - 31" S - 33" M - 35" L - 37" XL - 39" XXL - 41"
The best way to ensure you receive the correct size is to measure an existing belt from the fold to the hole that you most use, then pick the corresponding size from the table above. Other sizes may be available by request.
The Fire-hose Collection
We fell in love with London's decommissioned fire-hose back in 2005 through a chance encounter with the London Fire Brigade. We took this lifesaving material home determined to breathe new life into it and save it from its otherwise inevitable end in landfill, and vowed to donate 50% of our profits to charity.

For over a decade we have been rescuing all of London's retired fire-hose by lovingly handcrafting them into sustainable luxury bags and accessories. Every year since, Elvis & Kresse have donated 50% of the profits from the Fire-hose Collection to The Fire Fighters Charity. This heroic material, once used to save lives, gets a second chance to keep giving back.

Our Fire-hose pieces are more than just a collection, they represent a whole new kind of luxury. One that is sustainable, ethical, transparent, generous and kind.
Source: Elvis & Kresse
Features
Sizes: XS - 31" S - 33" M - 35" L - 37" XL - 39" XXL - 41"
Dimensions: 1.75 cm wide
Genuine decommissioned red British fire-hose
Elegant white stitch detail
Presented in a reclaimed pouch
Etched Elvis & Kresse logo
Handmade with hand-painted edges
Water resistant, Wipe-clean
Vegan
Repaired for life
International delivery
50% of profits go to The Fire Fighters Charity
Since 2005, Elvis & Kresse have been saving raw materials, transforming them into luxury lifestyle accessories, and giving away half of their profits to charity. For example, Elvis & Kresse uses the leather scraps from Burberry in the United Kingdom, material that would otherwise be discarded.
Ethically produced: Elvis & Kresse bags are ethically made in England. They pay their employees above a real living wage and are an accredited Living Wage Employer. The label has its own production location and this is a certified social enterprise as well as a founding UK B Corporation.
Eco-friendly: Elvis & Kresse makes bags from niche repurposed material. They collect 15 different waste streams and reuse them. From fire hose to leather waste to tea sacks. The full list can be found on their website! The label also purifies their own water and is building a fully circular water purification system so that no water leaves the site. In a few years they hope to be completely self-sufficient with their own water. All packaging is made by hand in their workshop in Kent. Also made from reused materials, such as old printing blankets and parachute silk.
Locally produced: The collections are made entirely locally in England, from local materials.
Good cause: Elvis & Kresse donate 50% of their profits to charities. Their charity partners are the Fire Fighters Charity and Barefoot College.
Practical information:
Shipping fee: £3.50 and free for orders over £100 in the UK and €14.60 in the EU and free for orders over €170.
Delivery time: up to 3 days in the UK and 5 working days in the EU, express shipping is possible.
Address: No physical store. However, they do welcome visitors to their workshop in Kent, England!