Global Organic Textile Standard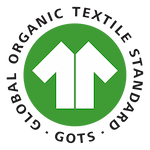 In short
Main category: Environmentally friendly and Fair trade
Independent verified certificate
Active for raw materials and textile processing
Two levels of certification: GOTS(79-94%) , GOTS(95-100%)
The Global Organic Textile Standard (GOTS) is an international certificate for the processing of organic fibres into, among other things, clothing and other textiles, with both social and ecological guidelines. The certification ensures that the textile is produced organically and has requirements that cover the entire production process. This certificate can, therefore, apply to all steps of the production chain.
Because these different steps are often managed by different companies or organizations, the certification can apply to only one step in the production chain. For example, you have GOTS certified cotton, but also GOTS certified textile factories, weaving mills, sewing factories, etc. A garment is only fully GOTS certified if all steps of the chain are GOTS certified. At Project Cece, we already show that the brand has this certification if the certificate has only been achieved at one step in the production process. We do state in the brand description exactly where the certification applies.
The GOTS certification is only used for the following fibres:
Cotton (most common)
Wool
Silk
Flax (linen)
Hemp
If these fibres have obtained the GOTS certification, then they are organically grown, meaning that no synthetic pesticides, no genetically modified organisms, and no fertilizer were used in the cultivation. There must also be a water management plan so that not too much water is wasted. In addition to the environmental requirements, the GOTS certification also has social requirements. The workers should receive a living wage and work under safe and healthy working conditions.
The factories are subject to requirements such as the limited use of harmful chemicals and the use of water treatment plants. Certain rights are also guaranteed for factory workers, such as receiving a fair wage, the right to form trade unions and the right to safe and healthy working conditions.
A more complete overview of all requirements of the GOTS can be found here. A textile product with the GOTS label organic must consist of at least 95% certified organic fibres. For products with the GOTS label made with organic, it must contain at least 70% certified organic fibres. Whether a company or organization meets the certification is audited by an independent organization.
A video sometimes says more than 1000 words, below a video in which the GOTS explains what they stand for and how they guarantee their guidelines
The GOTS certification is internationally seen as the leader when it comes to guaranteeing social and ecological criteria for textile.
More information
Project Cece is a search engine for fair and sustainable fashion. By putting the products of multiple sustainable brands on one website, it becomes very easy to find sustainable fashion! Take a look in our shopping section.