5 Best Sustainable Scrunchies & Hair Accessory Brands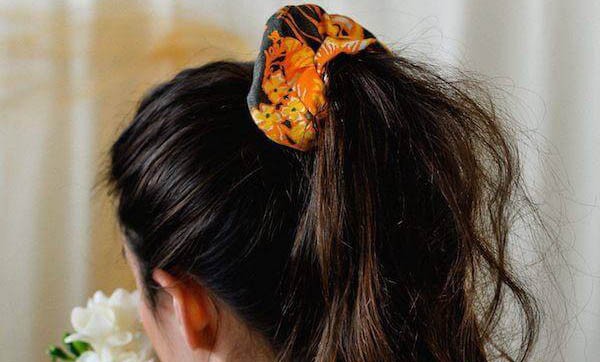 As you might already know, one of the tricks to create a memorable outfit or repurpose the same garments in different ways is to include the right accessories.
But why not do so with an eye for the planet?
From the best sustainable scrunchies to hair accessories made with leftover material saved from landfills, these brands will allow you to add the cherry on top of your ethical outfits.
The ethical clothing brand Jenerous has one of the largest collections of sustainable hair accessories in all sorts of colours and patterns.
It won't be hard to find the right one for your personal style and preferences!
Every single item is crafted using their clothing offcuts to help minimise waste, mostly involving organic cotton.
Their sustainable scrunchies and headbands are also hand block printed and made in Jenerous's Indian factory, which is certified fairtrade.
Raise your hand if you also end up wearing a hair tie around your wrist like a bracelet most of the time (you can't see our hands, but they're raised… and they all have hair ties).
These small accessories are proper lifesavers whenever you need a last-minute ponytail on the go.
Anekdot has managed to turn them into some of the most sustainable hair accessories by choosing deadstock scraps. Since many of their fabrics are also recycled, they get double eco-friendly points from us.
We also love the fact that you get to choose between multiple hair ties in the same colour or a palette-style set.
When you choose these ethical scrunchies, you're also supporting a fairtrade brand that does a lot for the community.
Birdsong's items are handmade by women supported by Stitches In Time, a community arts charity based in London, and packaged and posted by adults with learning disabilities.
As you've probably guessed by now, their sustainable scrunchies are also made using offcut materials to reduce waste.
Do you prefer their monochrome models or the most creative patterns?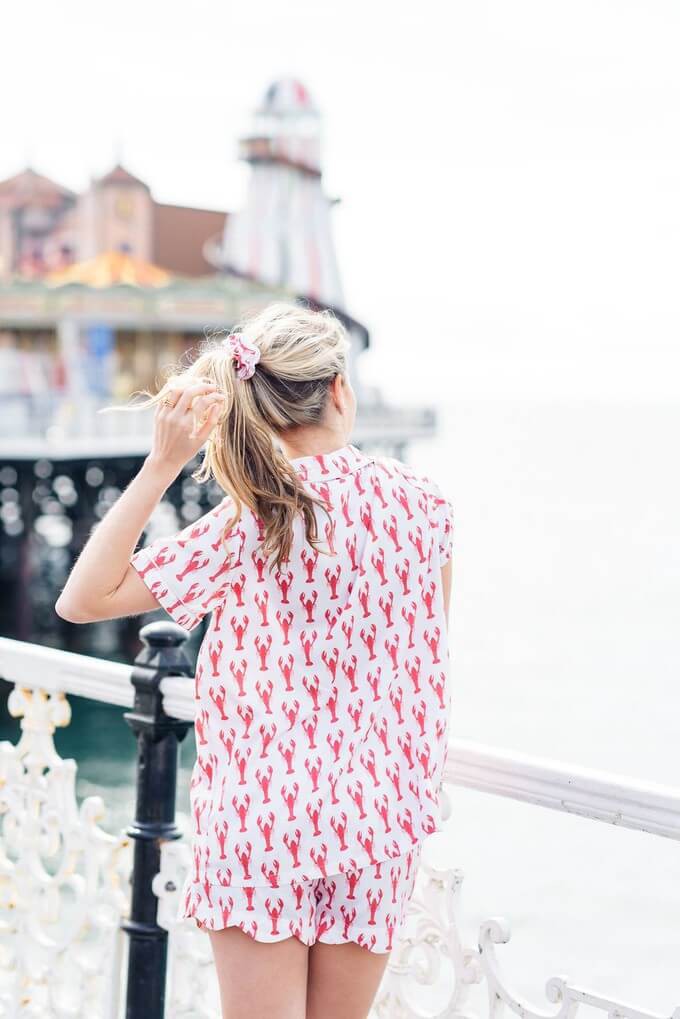 Nightire is a quirky brand focusing on sustainable nightwear, but they've also found a way of utilising their offcuts to make ethical hair accessories.
Just like their pyjamas, these scrunchies are made of 100% bamboo (incredibly soft!).
The fact that they're produced using the same fabrics means that you can easily get a scrunchie that matches a specific set.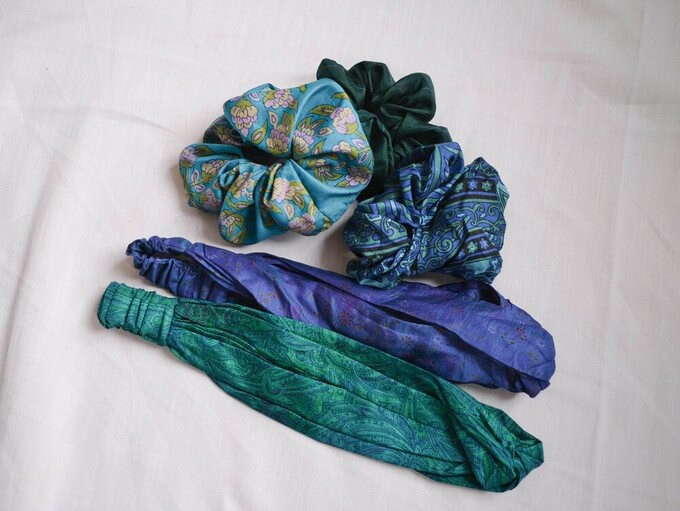 Tildé's sustainable scrunchies and headbands are also handcrafted using scrap materials, and… what a colourful range they have!
Some of them are made out of recycled Indian sarees, which adds to the element of uniqueness.
While some of these sustainable head accessories are available as single products, quite a few of them come as convenient sets.
These were just a few of our current favourites, but don't forget that more and more brands have been branching out to offer a few accessories in their range of ethical fashion products.
Wanna browse a few more?
Check out the best sustainable scrunchies & hair accessories on Project Cece to complete your signature look.
---
Your morning skincare and makeup routine can make a big difference for the planet! Find the best sustainable cosmetics or vegan products for your ethos.
Some popular natural alternatives can be worst than other synthetic fabrics or less known materials. Discover what the most sustainable fabrics are in a simple way!
Project Cece is a platform that collects ethical clothing from different webshops on one website. Take a look in our shopping section and find the clothing that fits your style, budget and values!