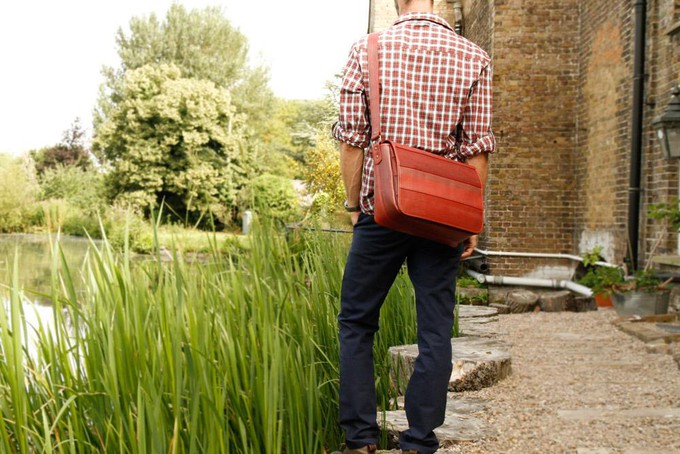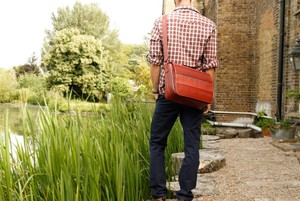 Messenger Bag
£250.00




Street smart
The Elvis & Kresse Messenger Bag is made from genuine decommissioned fire-hose and a has a reclaimed Burberry black cotton and military-grade parachute silk lining. Previously deployed in active duty for up to 30 years, fighting fires around the UK, the hose is perfectly robust for an every day bag and the full length flap, with hidden magnet closures, will keep your valuables safe. It has an internal zip pocket, a laptop divider and 1 full length zipped pocket under the flap.
Winner of one of The Best Sustainable Men's Clothing Brands by The Independent in August, 2020.
What can you fit in there?
This is a deceptively roomy bag, big enough for a 13" laptop, an A4 pad and all your other daily essentials, but small enough just to chuck in your tablet, wallet and keys and go....
We also offer a Limited Edition 'Print Room' version of our classic Messenger bag. Made from reclaimed printing blankets combined with our signature decommissioned fire-hose, this limited edition bag really makes a statement. The re-engineered black printing blanket creates a visually stunning textile that is strong and beautiful to the touch. This version of the bag maintains all the design features of the full fire-hose version as described above.
The Fire-hose Collection
We fell in love with London's decommissioned fire-hose back in 2005 through a chance encounter with the London Fire Brigade. We took this lifesaving material home determined to breathe new life into it and save it from its otherwise inevitable end in landfill, and vowed to donate 50% of our profits to charity.

For over a decade we have been rescuing all of London's retired fire-hose by lovingly handcrafting them into sustainable luxury bags and accessories. Every year since, Elvis & Kresse have donated 50% of the profits from the Fire-hose Collection to The Fire Fighters Charity. This heroic material, once used to save lives, gets a second chance to keep giving back.

Our Fire-hose pieces are more than just a collection, they represents a whole new kind of luxury. One that is sustainable, ethical, transparent, generous and kind.
Source: Elvis & Kresse
Features
Dimensions: H 26 x W 34 x D 11 cm
Max Strap Drop: 72 cm
Exterior: Choice of genuine decommissioned British fire-hose or reclaimed printing blanket
Lining: Reclaimed Burberry black cotton lining and military-grade parachute silk
Adjustable shoulder strap in genuine decommissioned British fire-hose
Available in Red, rare Yellow fire-hose, or Black printing blanket
Practical design
Voted as one of the Best Sustainable Men's Clothing Brands by The Independent
Full length flap with hidden magnetic closure
One external and one internal zip pocket
Padded central divider and laptop pocket
Presented in a reclaimed military-grade parachute silk dust bag, reusable as a shopping or delicate-wash bag
Etched Elvis & Kresse logo
Handmade with hand-painted and bound edges
Water resistant, Wipe-clean
Vegan
Repaired for life
Free international delivery
50% of profits go to The Fire Fighters Charity
Since 2005, Elvis & Kresse have been saving raw materials, transforming them into luxury lifestyle accessories, and giving away half of their profits to charity. For example, Elvis & Kresse uses the leather scraps from Burberry in the United Kingdom, material that would otherwise be discarded.
Ethically produced: Elvis & Kresse bags are ethically made in England. They pay their employees above a real living wage and are an accredited Living Wage Employer. The label has its own production location and this is a certified social enterprise as well as a founding UK B Corporation.
Eco-friendly: Elvis & Kresse makes bags from niche repurposed material. They collect 15 different waste streams and reuse them. From fire hose to leather waste to tea sacks. The full list can be found on their website! The label also purifies their own water and is building a fully circular water purification system so that no water leaves the site. In a few years they hope to be completely self-sufficient with their own water. All packaging is made by hand in their workshop in Kent. Also made from reused materials, such as old printing blankets and parachute silk.
Locally produced: The collections are made entirely locally in England, from local materials.
Good cause: Elvis & Kresse donate 50% of their profits to charities. Their charity partners are the Fire Fighters Charity and Barefoot College.
Practical information:
Shipping fee: £3.50 and free for orders over £100 in the UK and €14.60 in the EU and free for orders over €170.
Delivery time: up to 3 days in the UK and 5 working days in the EU, express shipping is possible.
Address: No physical store. However, they do welcome visitors to their workshop in Kent, England!